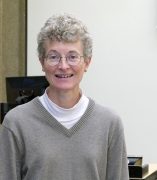 Margaret Miner, PhD
Associate Professor Emerita
French and Francophone Studies
Pronouns: She/Her/Hers
About
Major Interests:
19th-century French literature, music and literature, poetry and poetics, the fantastic, Baudelaire studies
Selected Publications
Books
Articles
"Some Notes on the Navigation of Fragments: Baudelaire's Music." Baudelairean Discourses. Ed. Sonya Stephens. Forthcoming.
"Fantastic Taste: Delphine de Girardin's Contes d'une vieille fille."Special issue on Delphine de Girardin. Ed. Catherine Nesci. Dix-Neuf: Journal of the society of dix-Neuviémistes 7 (2006): 68-88.
"Music and Theatre." The Cambridge Companion to Baudelaire. Ed. Rosemary Lloyd. Cambridge: Cambridge University Press, 2005. 145-63.
"(S)(m)othering Baudelaire." Baudelaire and His Heirs: The Poetics of Modernity. Ed. Patricia A. Ward and Marc Froment-Meurice. Nashville: Vanderbilt University Press, 2001. 157-171.
"Devouring Streets: Jules Janin and the Abjection of Paris." MLN 113 (1998): 780-811.
"Fur In My Brain: Baudelaire's 'Le Chat.'" Understanding "Les Fleurs du mal": Critical Readings. Ed. William J. Thompson. Nashville: Vanderbilt University Press, 1997. 95-108.
"Consuming Midnight: Baudelaire Preys on Time." Symposium. 52.1 (1998): 40-59.
"Music in the City: Fragments of Open Air." Nineteenth-Century French Studies 23.3-4 (1995). 384-396.
"Music Obscured: Mallarmé's Hermetic Mandore." Dalhousie French Studies 33 (1995). 35-54.
"Phantoms of Genius: Women and the Fantastic in the Opera-House Mystery." 19th-Century Music 18.2 (1994). 121-135.
Education
Ph.D., Yale
M. Phil., Yale
B.A., Carleton College