Courses
This is an unofficial list of courses that will be offered in French and Francophone Studies in Spring 2023. It is strictly for the use of expanded course descriptions. For the complete official course offerings, please consult the My.UIC portal.
For a list of all courses and general course descriptions, please see the UIC Academic Catalog.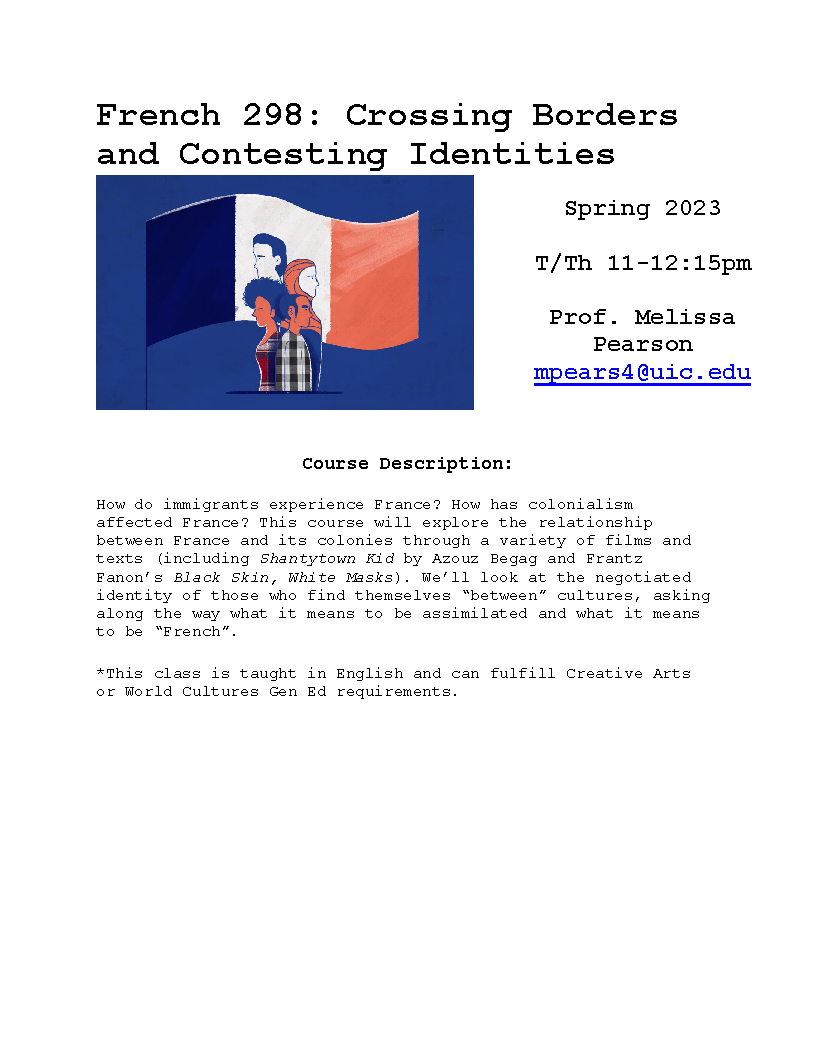 FR 298 – Crossing Borders and Contesting Identities
On Campus, TR 11:00-12:15
Instructor: Melissa Pearson
How do immigrants experience France? How has colonialism affected France? This course will explore the relationship between France and its colonies through a variety of films and texts (including Shantytown Kid by Azouz Begag and Frantz Fanon's Black Skin, White Masks). We'll look at the negotiated identity of those who find themselves "between" cultures, asking along the way what it means to be assimilated and what it means to be "French".
Creative Arts & World Cultures
printable flyer

Basic Language Courses
FR 101-104 are four credit hour blended learning classes. They meet face-to-face three hours a week, and one credit hour is fulfilled with asynchronous online learning materials. Days and times listed in the schedule of classes indicate required on campus sessions. No online/remote attendance options are available.
FR 101 – Elementary French I
TR 9:30-10:45 & 2:00-3:15
MWF 11:00-11:50 & 12:00-12:50
FR 102 – Elementary French II
TR 9:30-10:45
MWF 10:00-10:50 & 1:00-1:50
FR 103 – Intermediate French I
MWF 9:00-9:50, 10:00-10:50, 11:00-11:50 & 1:00-1:50
FR 104 – Intermediate French II
MWF 10:00-10:50, 12:00-12:50, 1:00-1:50 & 2:00-2:50
French Literature and Culture Courses
FR 212 – Exploring the French-Speaking World
On Campus, MW 3:00-4:15
Instructor: Dr. John Ireland
Join us on a journey through the French-speaking world! Through literary works, visual art, music, and social media, we'll look at how artists and activists have responded to colonialism, dictatorships, and globalization in North and sub-Saharan Africa, the Middle East, the Caribbean, Québec, and France.
FR 213 – France Past and Present
On Campus, TR 2:00-3:15
Instructor: Dr. Roselyne Gérazime
What are the roots of French culture? How has France evolved into a nation? What encounters and what conflicts with other cultures and other nations have shaped France over time? How have language and culture interacted in France?
FR 214 – Conversational French through Popular Culture and Media
On Campus, TR 9:30-10:45
Instructor: Carly Lapotre
Join us as we explore French popular culture through music, comics, film, television, and the internet. From the gilets jaunes to the banlieue, we'll discuss what's happening in France today and compare it to American popular culture and to France's recent past.
FR 300 – Topics in Film and Media of the French-Speaking World
On Campus, TR 12:30-1:45
Instructor: Dr. Elizabeth Weber
FR 302 – Topics in French and Francophone Culture
On Campus, TR 11:00-12:15
Instructor: Dr. Ellen McClure
Advanced and Graduate French Courses
FR 422 – Topics in Francophone Literature
On Campus, T 3:30-6:00
Instructor: Dr. Roselyne Gérazime
FR 510 – Seminar in Literary Studies
On Campus, M 5:00-7:30
Instructor: Dr. John Ireland